(NOTE: THERE CAN BE MALE VERSIONS OF THIS DESPITE THE TERMS I USE)
Clingy and Jealous Girl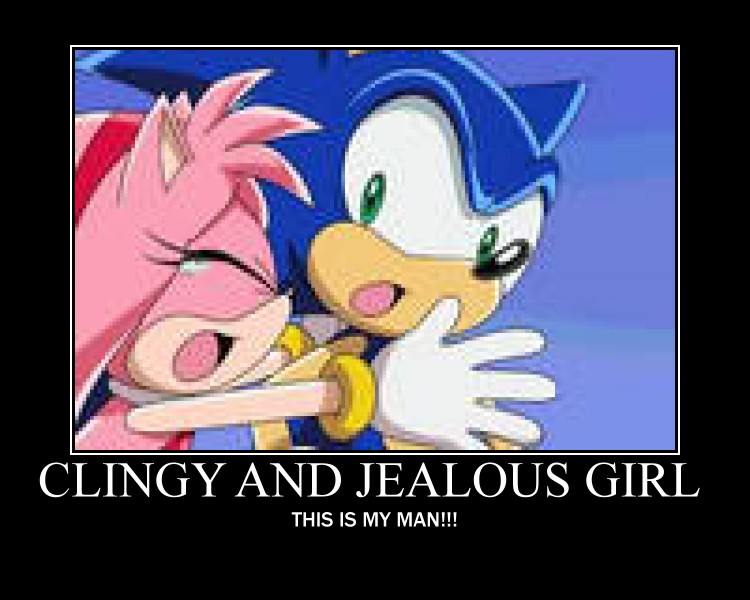 She's often cute, almost to the point of twee. She's very affectionate, too. But she also has a grip like a mechanicle hydraulic press, and seems to want to be an article of clothing wrapped around the body of the guy she likes.
Woe to him if he so much as looks at another girl or if another girl looks at him, for she's usually highly armed with an huge Slap, a Big Punch or a Massive Cartoon-like Mallet, and she's willing to use it on him whether he invited the attention or not.
She's his Clingy and Jealous Girl, and she can be anywhere on the spectrum from a fondly-regarded nuisance to a stalker.
If she's a Tsundere instead, her violence towards the male lead will be a Running Gag.
Sometimes she'll be more prone to snide comments and verbal violence than open clinginess.
Depending on how possessive she is, their "boyfriend's" friends will also be targeted.
Yandere
The word "
yandere
", a term that blossomed in the japanese languge, refers to a character who is crazy about someone else. Literally. Despite the anime-inspired name, this type of character is much, much older than that, as one of the earliest examples is the Mesopotamian goddess Ishtar.
The character almost always appears perfectly cute, Sweet and harmless on the surface... but underneath they may be obsessive, controlling, and sometimes just plain NUTS! No Wait.......Nuts does not even begin to cover how crazy this person is!
Woe to anyone who happens to be the object of their often genuine affection. Even more pity should be saved for anyone who gets in the way because this woman obsessive behavior and is amazingly unwilling to put up with any rivals.
This to the point of Obilerating their rivals.
This is because of some kind of somekind of problem she faced ealier in her life rather than out of pure vileness.
In light hearted stories she manages to recover from whatever bothered her she finally will begin to win her lover's heart.
This person can be used for drama and horror in the early stories.
However, it is used as comedy in the present.