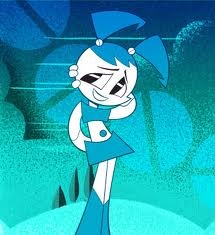 The Term "Femmebot" is another word for a "Female Robot". Most commonly found in science fiction and Sentai shows, but not exclusively. Despite how cute or attractive she might be to a male robot, Femmebots are often a highly dangerous opponent in a fight, even if some of them are created to do common household chores.
The robot girl is not necessarily a completely mechanical creation — the character type can encompass cyborgs, bioroids and even virtual beings.
While not unheard of in American shows Femmebots on American TV tends to be a gimmick on which to hang a series concept rather than a character type in its own right.
Of course, Japan being the worldwide leader in consumer electronics, this kind of androids are quite popular in that country.
Other robots like her, After all why in the world would an innocent, naive, drop-dead gorgeous (well in a robot's standard) female facsimile not want another robot to have around. If this robot girl is the lead female or at least an important one, this innocence and naivety can be a large part of their character or even the theme of the work.
Occasionally, even if the Femmebot is initially depicted as totally emotionless and incapable of compassion, empathy, humor or love, often such traits - or the simulation of such traits - will begin to sneak in.