But human flesh was too frail, too paltry to hold the terrific essence that was Khosatral Khel. So he stood up in the shape and aspect of a man, but his flesh was not flesh; nor the bone, bone; nor blood, blood. He became a blasphemy against all nature, for he caused to live and think and act a basic substance that before had never known the pulse and stir of animate being.
— Robert E. Howard, The Devil in Iron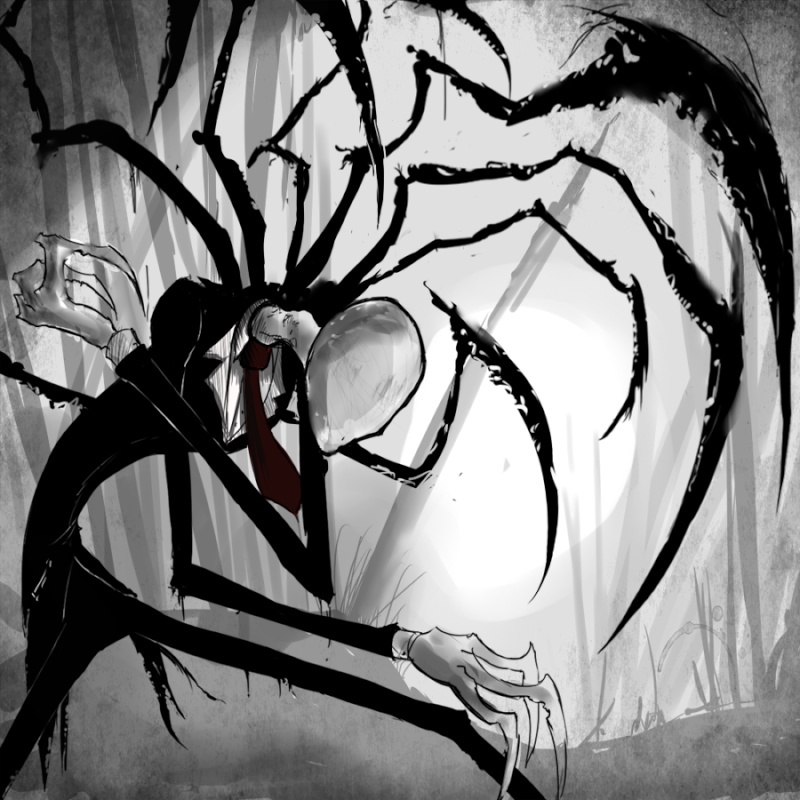 In more recent horror works, dark things from beyond the fringes of mankind's consciousness are prone to showing up in forms that for all intents and purposes look like good ol' Homo sapiens (and in many cases, actually were humans until they went beyond the pale). They may be improbably pretty, albeit prone to seeming a bit off, perhaps even having a odd appearance. However, they may also look like a human form made twisted and horribly wrong. Some Demonstrate traits such as hey're impossibly strong, able to move faster than the human eye can perceive, don't bleed when you cut them, have Extreme Omnivore tendencies, which may extend to humans, have been alive for centuries, and are pure evil.
They may have been humans who had their soul was so literally warped and monstrous, descended from a more conventionally abominable alien, or genetically engineered human husks that accidentally got a soul. However they have potential to become Cosmic Abominations (despite their physical appearance) by having abilities or trying to do things such as killing gods and absorbing their powers, devouring human souls, destroy time itself, adopt the forms of the people they eaten, or if they are unsealed they can creates a wave of energy that critically weakens the good guys while creating new enemies and empowering existing ones,
Sometimes there's absolutely nothing inhuman about there appearance, even though he's a demon that slipped in through a hole in the walls of the cosmos from the outside.
Sometimes they are mistaken for a Cosmic Abomination at first, but during the climactic battle, his Evil Gloating reveals that, as a boy, he escaped into the fringes of the Fillory world and accepted the darker magic of its inhabitants wholeheartedly, transforming him into a god-level power. The result
Here are a list of examples in mythology:
(NOTE: THIS IS NOT INTENDED TO OFFEND ANYONE)
. Nyx, personification of Night from Classical Mythology. Usually represented as a beautiful female human, yet a quick look at her children - most of which she gave birth to by herself alone - should tell you what kind of being she really is. If that doesn't convince you yet, the fact that even Zeus fears her should.
Essentially, every deity that isn't just a superpowered human is this.
. Cú Chulainn, the young hero of the Ulster Cycle of Celtic Mythology, particularly of the Táin Bó Cúailnge. Though he is portrayed as being as Pretty boy as a teenaged Irish person can be, he is a descendant from the Fomorians, a monstrous race from the mythic prehistory era of Ireland. Though he is heroic and stalwart, and generally perceived as a good guy, his defining mystical characteristic is his ability to transform into various disfigured superpowered abominations through the use of his warp-spasm. After he transforms, he becomes a berserker that slaughters anything in his path, friend and foe alike.
. Some of the angels in Abrahamic religions, such as Christianity and Judaism. It is clear that some angels like Gabriel can appear as
humanoid
, but their real forms are at best highly confusing and at worst mind-numbingly horrifying. And they're not even alive anyway, as their entry on Cosmic Abominations in mythology and religion shows. Note that only some bother to appear as
humanoid
however, as many in The Bible and the Qu'ran don't even bother to disguise their real forms.
Daniel saw an angel that was invisible to everyone else, carried with it an aura of fear, and had a glowing face (like lightning) and eyes of flame. Also a body carved from gemstones.
According to one interpretation, a lot of the angels mentioned early on in the Bible (especially in B'reshit/Genesis) are in essence the will of God made manifest in temporary human form. So while they're described as men in the text, they really really aren't.
The Devil is described as "appearing in the guise of a young man."
By the way here's a
Humanoid
Abomination for cartoon characters: