Blobby Pollution
Space station orbiting earth
https://www.youtube.com/watch?v=QVV6Mllyq7E
(we see Zim cleaning his space station for sometime.)
Zim: Well I better get GIR over here to see how clean this is and go back to testing my devices here.
(Zim hits a button transporting GIR and.........Something blob-like?)
https://www.youtube.com/watch?v=CTfEa1_fDBY
GIR: hello Zim you can play along blob.
Zim: GIR what the heck is that!?
GIR: It's my friend the blob in the guy gutter.
Zim: Tell your friend to stop covering my equipment in oil! I need that to work with.
GIR: Come here.
(The Blob shows up and eats some split garbage along the way.)
https://www.youtube.com/watch?v=pZdwI2x7bGc
Zim: wow, you're blob friend can eat a lot of pollution, he's a living mineral.
GIR: So I like Him.
Zim: Perhaps I can put him to some kind of use.
Earth, city factory, day
Zim: OK you blob this place is dirty so eat all the dirt you can find.
GIR: I thought you disliked humanity Zim.
Zim: Well I can't have a planet that's too messy to rule at. I would like my environment's cleanness to go back to the times where giant dinosaurs romped the planet.
GIR: Good point see ya blob.
https://www.youtube.com/watch?v=IpkE-jzy-zo
(The blob eats thousand of garbage for sometime until his size increases.)
Later....
Zim: Let's see you're progress Mr. Blob......
GIR: Come out....
(They see a huge Blob rampaging across the area.)
GIR: Looks like we have to destroy him.
Zim: I always disliked this smog monster.
https://www.youtube.com/watch?v=kNu4uoxvTXc&feature=related
(Zim and GIR bait Blob to a battery park eventually he winds up trying to attack them but gets electrocuted sending chunks of him flying off into space.)
GIR: Hey Zim where do you suppose that huge blob is going to land.
Zim: Can't be sure but he is going to leave a HUGE mess.
Space, 4000000000 miles away from earth, spaceship leaving Planet UV-9, inside
https://www.youtube.com/watch?v=H2USxN5qcRs
Lard-Narr: Attention all members of the Resisty, this Lard-Narr you're captain speaking now that we have recovered were going to-
Shloonktapooxis: Shloonktapooxis also speaking were going to party at apple bees tonight.
https://www.youtube.com/watch?v=gQHYguhyUz0&feature=related
Spleenk: Spleenk also speaking, I JUST GOT AWAY WITH MY SUGAR CHRISP!!!
Lard-Narr: Why did I let you follow me after we repaired the ship on the planet UV-9?
Shloonktapooxis & Spleenk: I Don't Know.
Lard-Narr: Well at least we got out of that hostile jungle environment.
WHAM
https://www.youtube.com/watch?v=oxLDjaPdZL8&feature=related
(We see All this goo slam into their ship as it begins to muck up everything.)
Lard-Narr were going to have to visit another space ship wash.
Spleenk: I Think I'm feeling queasy.
Shloonktapooxis: Taste good.
Lard-Narr: Oh brother.
THE END
TRIVIA
. The entire episode was inspired by this song
https://www.youtube.com/watch?v=mUxUoA09p6A
. The Blob was inspired by this image
http://www.tohokingdom.com/kaiju/images/hedorah_land.htm
. In case anyone forgot who the Resisty is look here
https://planetirk.forumotion.com/t285-the-resisty
. the space station looks like this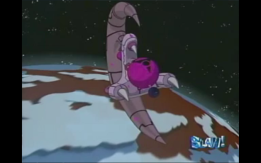 . the Planet at the end was inspired by this image