Heckstar Erebus
https://www.youtube.com/watch?v=2uyUC5N2zxo
Narrator: The most merciful thing in the world, I think, is the inability of the human mind to correlate all its contents. We live on a placid island of ignorance in the midst of black seas of infinity, and it was not meant that we should voyage far. The sciences, each straining in its own direction, have hitherto harmed us little; but some day the piecing together of dissociated knowledge will open up such terrifying vistas of reality, and of our frightful position therein, that we shall either go crazy or flee from the light into the peace and safety of a new dark age. This is how we behave when we learn completely new and strange things our story begins in an average city called New York.
City harbor, day
Radio:
https://www.youtube.com/watch?v=nsf1Rh0klBw
(We see Zim and GIR sitting near the harbor while listening to music.)
Zim: For once GIR we get to kick back and relax on this nice day.
GIR: I know these seagulls taste good Zim.
(As GIR eats Seagulls Zim uses news papers and gasoline to start a fire to keep them warm.)
Zim: I wonder what type of villain is trying to swim to this island earth.
https://www.youtube.com/watch?v=dFo3BI0Sdxk&feature=related
(Suddenly two alien creatures resembling vaguely plants show up.)
Zim: What the?! Are you part of the garden industry I didn't come here to pay you're checks….wait a minute what the heck are you guys.
GIR: They look like um dandelions.
Zim: Um GIR those things on the head are roses.
Seedrian 1: we are the Seedrian.
Zim: Wait a minute you were that guy who sent me to the time station.
Seedrian 2: We have come to wan you about Heckstar Erebus.
https://www.youtube.com/watch?v=4MPLj1bUKWc&feature=related
Zim: A Heckstar?!
GIR: what?
Zim: A Heckstar ancient extinct creatures try to image for a minute made of energy and is an amorphous colossal fleshy mass, a sea of maws and eyeballs wasting away in the darkness over hundreds of years, scheming and plotting His influence has destroyed the region around him, leaving it uninhabitable.
GIR: Why are there only female Seedrian?
Zim: because plants reproduce with pollen not how humans do it
https://www.youtube.com/watch?v=3AICGyjwAmc
(Suddenly a red planet-like object appears covered in eyes and mouths shows up it's very presence makes the sky turn orange.)
Seedrian 1: This is you're problem now!
Seedrian 2: you were a good man it was nice knowing you.
Zim: GET YOU'RE MISIRABLE BUTTS BACK HERE!!!!
(The Seedrian teleport away leaving Zim and GIR to deal with Heckstar Erebus, suddenly all members of every nation battle parts of it as it sucks energy from the planet, Zim and GIR watch this happen and walk to another part of the city.)
Meanwhile…
Commander of the Japanese army: Today is a good day to be destroyed……..if you're a giant monster attacking the city! Now gentle men I have prepared few words for today. LET'S KICK THE DEVIL PLANET'S BUTT MOVEOUT!
EVA-Unit: If you like you should put a ring on!
https://www.youtube.com/watch?v=bFhslp5dyxo
(They fight the tentacle-like tongs as Zim and GIR pass them.)
Zim: those are EVA-Units they are not used by the Japanese that often because they are highly aggressive.
Heckstar Erebus, outside
https://www.youtube.com/watch?v=94Vw2mINzZ8
(Zim and GIR fly on the planet's atmosphere and eventually land on it.)
Zim: Here we are GIR on Heckstar Erebus, we have tested the atmosphere and it's not breathable.
GIR: Hey there's weird tongs everywhere.
Zim: this situation means…….WE WON'T CONQURE IT!!! OUR MISSION WILL BE A TOTAL FALIURE!!! IMAGEN THE ARMADA SHOWS AND THE ENTIRE PLANETIS MISSING!!!
https://www.youtube.com/watch?v=N2yGXTwKMhM
(Zim places a bomb in its mouth triggering a massive explosion the two escape in time.)
Zim: Well we saved earth now to go back and conquer it!
GIR: YAY!!!
Radio:
https://www.youtube.com/watch?v=i0yhXxVBkaA
THE END
TRIVIA
. The entire episode parodies Heckstar Remina by Junji Ito
. In Greek mythology Erebus is a region in the underworld
. The Seedrian looks like this
http://images2.wikia.nocookie.net/__cb20080120070647/sonic/images/9/9c/Cosmo.png
. A Heckstar Looks like this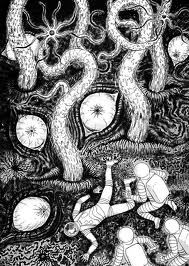 . EVA-unit looks like this
http://wiki.evageeks.org/images/c/c9/19_C338_guooo.jpg
. THe quotes said at the opening are direct quotes from HP Lovecraft's "Call of Cthulhu"