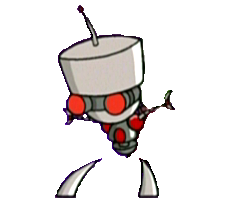 A Standard-issue Information Retrieval Unit (commonly shortened to SIR) is a form of information-gathering robot used by the Irken race in the TV show Invader ZIM. They are designed to assist any invader in their conquest of planets. They also double as a thermos.
Abilities SIR units are equipped with various weaponry and gadgets. Here is a list of all their known functions and utilities:
Head-mounted rocket-launchers and machine guns
Circular saw-blades
Self-destruct capabilities
Extending grappler arms
Hover-jets in legs; thrusters can be removed and the empty space used for storage
Ability to fire electronic-crippling fragments
Ability to discharge energy blasts
Giant sling-shot in head
Compatibility with custom upgrades, such as Mimi's power arm and GIR's memory tank
Ability to pilot Irken vehicles
Collapsibility for easy storage
Thermos
Free will activated when the mission to which they have currently been assigned is threatened
Communication with the owner through the owner's PAK
Additional Features
A SIR unit's memory disk inside its head records all vital data witnessed by the SIR unit. Though not necessary for the unit to function, it can be used to override basic SIR programming and control the unit from a remote location, as stated by the computer in TAK: The Hideous New Girl.
Malfunctions
An example of a Malfunctioning SIR Unit from Megadoomer on Planet MeekrobSIR Units will eventually go haywire and destroy anything in sight and they seem to act and sound like GIR. In the episode Megadoomer The Tallest kept a storage room full of malfunctioning SIRs that they intended to send to ZIM. They were accidentally sent to Invader Tenn and ravaged her base.
SIRs (except modified SIRs, such as GIR or MiMi) come in a standard look and with standard weaponry.
No mouths (prevents freedom of speech)
About two SIR heads tall in height
Tasers
Missle Launchers
Assorment of Guns
GIR

GIR is a dysfunctional version of the Irken SIR (Standard Information Retrieval) units given to Irken invaders. In order to avoid wasting a functional SIR unit on Zim, GIR was constructed from junk parts found in a trash can. He is completely Brain dead. Zim blames him for most of the problems on the mission, regardless of whether or not it is his fault. GIR takes a lackadaisical approach to life( odd for a type of robot used for killing), mostly concerned with his squeaky toys, food, the Scary Monkey Show, pigs, and television. He doesn't know what the 'G' in 'GIR' stands for.
MiMi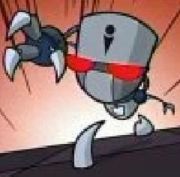 Tak has a custom SIR unit (probably built from pieces of actual SIRs she obtained during janitorial work on planet Dirt) named MiMi. MiMi has a large claw hand used for destruction. While on Earth, MiMi goes disguised as a cat. She is very agile in this state. Gaz obtains MiMi's SIR memory disk which is used to find out Tak's plan. GIR is later hooked up to the disk so he can operate MiMi remotely, causing MiMi to act crazy and wreck Tak's ship while she is in space.
You can find them In at the SIR dealer ship or milltairy givings comes with complementairy upgrades comes in 4 models Defective,Standard,Advanced and Omega (sorry complementairy upgrades sold sepertely, oh and by the way upgrades include intelligence level, personality and weapons)
This message was brought you by The Irken Empire