(WARNING: THIS ARTICLE IS FREAKY)
Music for the Article
The human body is a remarkable machine, but it doesn't just run on energy. It also requires vitamins, minerals, and a plethora of other substances in specific doses to run at peak efficiency. So what, pray tell, does a supernatural or alien being require to operate at its normal, super human efficiency? Why, humans!
These creatures don't just need to feed on humans to get their powers or keep a human shape, but very likely to survive. And to make matters worse, this diet comes with a relentless, insatiable, and ultimately irresistible hunger. This is the driving force behind a lot of the evil in supernatural creatures. This diet can only be sated by feeding on humans, souls animals are rarely a viable substitute, and if they do work, they taste horrible.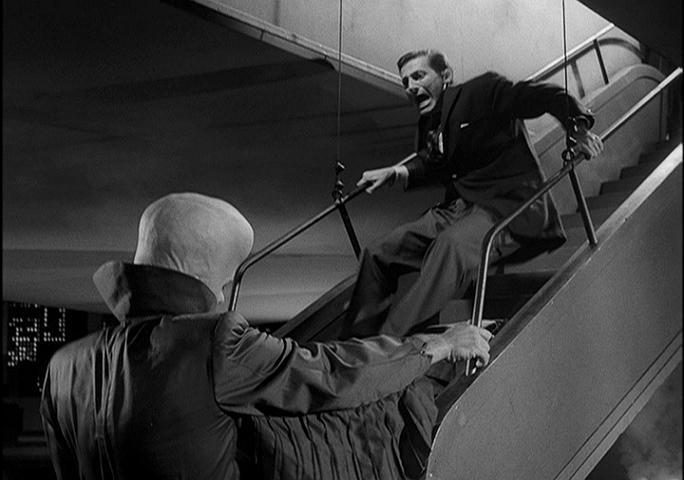 This was done in the twilight zone episode titled to serve man The story begins when seemingly benevolent aliens come to Earth bringing solutions to the world's issues of war, hunger and poverty, and eventually offer humans rides back to their home planet. Said aliens are carrying a book instructing them on how to aide humans, entitled "To Serve Man" (that is, presumably, to be of service to man). However, as more of the book is translated, its true nature is discovered as a COOKBOOK
The hunger isn't always for humans, or humans per se. At times, it can be for dangerous substances, especially if it has to be harvested from humans, like Life energy found in the soul .
Sometimes they aren't even naturally humanoid, they reproduce by infesting humanoids with their larvae who acts as viruses, which then take over and mutate the victim into a new member and eat other members of the person's orignal species. Occasionally, they manage to infest nonhumanoid creatures, such as dragons or dinosaurs.
Even if it's a hunger for something that doesn't harm humans directly, it can still be extremely dangerous. Perhaps feeding somehow damages the environment, the addictive elements and danger of death are still present, and/or it likely will drive them nuts. This diet addict likely suffer from horrifying conditions regarding their choice substance.
YUCK WHY DO YOU NEED TO EAT THAT STUFF