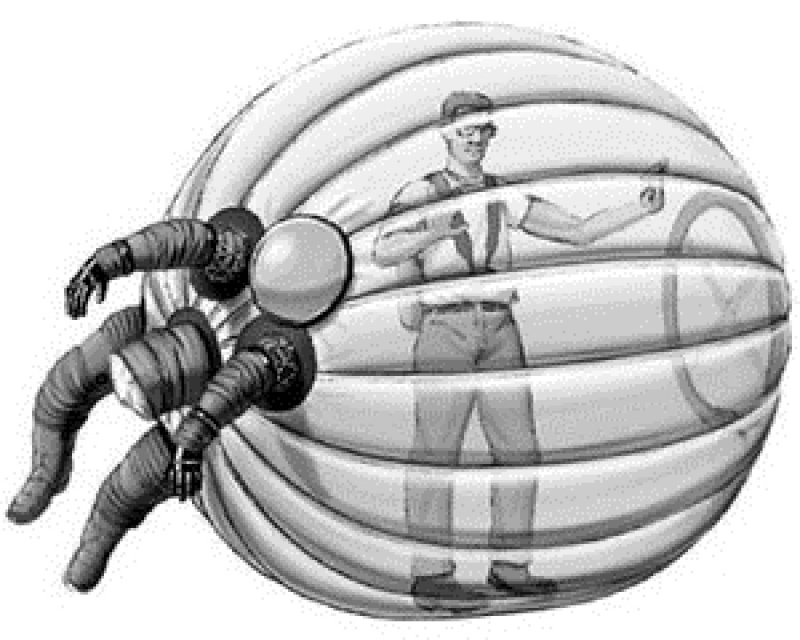 Music for the Article
The Flawed Prototype is just that, the first person or machine in a series that also happens to have a flaw or deficiency in its construction or performance. The prototype usually functions, maybe even exceeds expectations, but something just isn't quite right with it. At its most benign, it's "just OK" and is quickly eclipsed by the production models. If it's a machine, maybe it has a design flaw or weak point, it will explode if pushed too far, or has issues with its Power Source. If the prototype is a person, he may risk physical breakdown from overexerting oneself or even a Super Power Meltdown every time his powers or Super Mode are engaged, have most of the ostensibly "safe" original functions or attacks be Dangerous Forbidden Techniques, require a form of life support, or have a passive Power Degeneration that will kill him in short order. Or worst, will perform above expectations... and will have also gone insane.
The Flawed Prototype may be a protagonist, antagonist or supporting character. A protagonist who is a Flawed Prototype may be a problem with the fueal with the unenviable task of taking out his better made brothers, usually he will get the job done because he's Weak, but Skilled. An antagonistic Flawed Prototype is usually a Beta Test Baddie who is jealous of the "perfect" hero, or is a Psycho Prototype who just wants to destroy him for the lulz. Most commonly seen as a supporting character, the Flawed Prototype will usually act as a Big Brother Mentor for the hero, helping bail them out while they're learning how to use their abilities but (usually) being unable to help beat the Big Bad. For these reasons, the supporting flawed prototype is usually a well liked amoung the audience
A villain may end up using a Flawed Prototype out of desperation or overeagerness to destroy the hero, despite the warnings of his scientists that it hasn't been properly tested. This usually proves to be his undoing.
Sometimes the copies have a Sibling Rivalry can get a little... intense. The Flawed Prototype gets overly jealous that the other has become The final copy and one just happens to have been tempted to The Dark Side, maybe one of them betrayed their master or father and the other has to stop him, or maybe it's just Because Destiny Says So, Whatever the case may be, now one's the hero and one's the villain, and they must do battle.
If these are artificial humans or rather artificial angle if goes like this................
Flawed Prototype was created by a god to succede him and was deemed a failure because never got to experience childhood and was "Born" full devloped. As such, he never developed human emotions and so would never be able to attain the world's ultimate power, not to mention he was dangeriously crazy, violent and destructive.
A strong mind of his own with no feelings of remorse or conscience was a dangerous mix and for inciting war, something that the God WAS UTTERLY DISGUSTED IN!!!!
However it was difficult for The Prototype to harness to his own ends. the God decided to create another Angel who would be different from the Prototype from the outset, and thus The Second Reaper was born and was created as a child,
which meant he would be able to learn and grow and thus develop the ability for complex emotions needed to become the Grim Reaper, making him superior to the flawed prototype.
While the God never told the Flawed Portotype, that he was only a temporary Angel of Death, meant to harvest souls people on earth and act as a guide for the dead until the God could perfect the true Angel of Death, who became the final copy.
This resulted in a battle between the two, resulting in the heroic Final Copy, defeatning the Evil Prototype and resulting in peace on earth.
Eventually he grew up into someone who became big and powerful
Sometimes this isn't the case because the Creator ultimately admits that Flawed Prototype is vastly more effective than he'd ever thought possible. It's still implied that due to Flawed Prototype being one of the first , his lifespan will ultimately be much shorter than those who come after him.